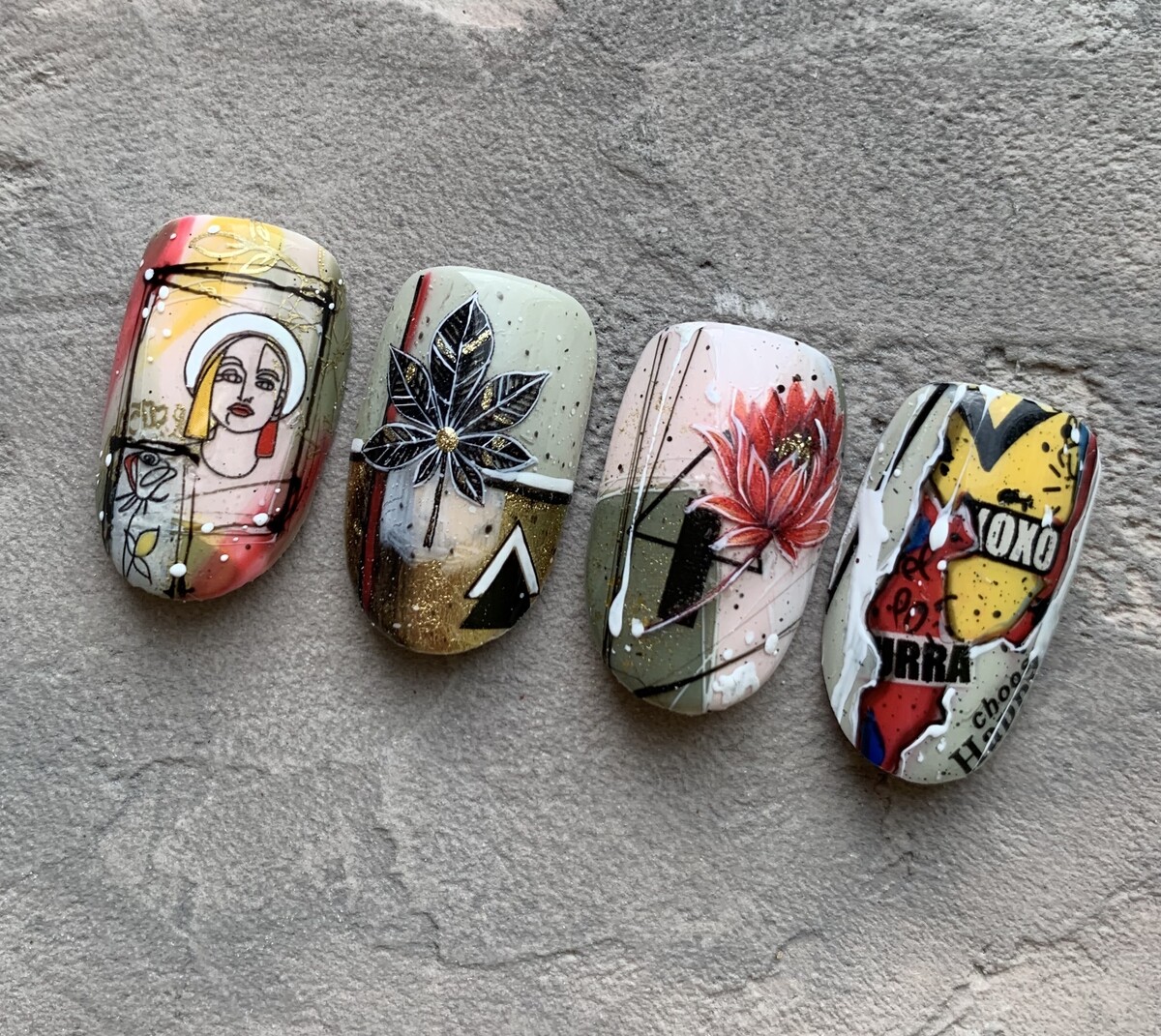 Online course by Natasha Chechneva
Continuing Education Units: 10
Natasha Chechneva shared the secrets of creating amazing nail designs. You can purchase access for 1 month and get teacher graded assignments, and certificate


What you will learn:
Working with a color wheel
The choice of colors for the designs. All about the harmonious combination of colors
Rule of composition. Stages of creating a design in the collage technique
Working with sliders. How to choose and how to fix the slider
Secrets of working with pigments, foil, gold leaf
The completion of the design, bright accents.
How our online education works?
You study remotely. The lessons are available whenever it is convenient for you.
You immediately gain access to several lessons and can view them any number of times any time you wish.
Some lessons contain practical assignments that you need to fulfill.
Next lessons will only become available after the previos lesson's assignments are completed.
You chose your own time to complete the tasks.
Make photos of your results and upload them to your account.
I evaluate the results, make comments and point out mistakes (if any), accept the assignment or ask you to try again.
You are constantly in touch with me. I always answer all the questions from all the students.
Take your time completing the tasks, do not hurry.
Spend as much time as you need on the assignments. We will prolong your access to the course for 1 or 2 weeks if required.
At the end of the course, when all your tasks are completed, you will be given access to the Test Lesson – the final evaluation of the knowledge gained during the course. After the Test is passed successfully you will get the numbered Certificate, written in your name.
All during the course the tasks submitted by each student are seen to the rest of the group. You can follow the teacher pointing out and correcting mistakes of your fellow students. This prevents you from making the same mistakes and gives a great opportunity to improve YOUR OWN work.
Products you will need:
Gel polish system (a base coat, a top coat and color polishes)
Gel paints (white and black)
Water decals
Stickers
Nail foil
Tools:
Painting brushes of different sizes
Scissors
Stamping system (silicone pad, ornament palettes)
Try now! Create your nail design!
I am Natasha Chechneva, Educator of Nails Pro Academy:
Nail technician since 2012 and nail art educator for more than 5 years with over 1500 students
Nail brand technologist
Author of Artistic nail art courses
Prize winner of international nail art competitions
Golden hands of the world, 2015, Rome, Italy. Hand Painting, VIP-master category, 3rd place
International championship Christmas star, 2017 in Israel. Hand painting, veterans. 1st place
International championship Golden hands of the world 2015, Barcelona, Spain. Mix-media, VIP-master category 2nd place
Graduator of an art school
Professional dentist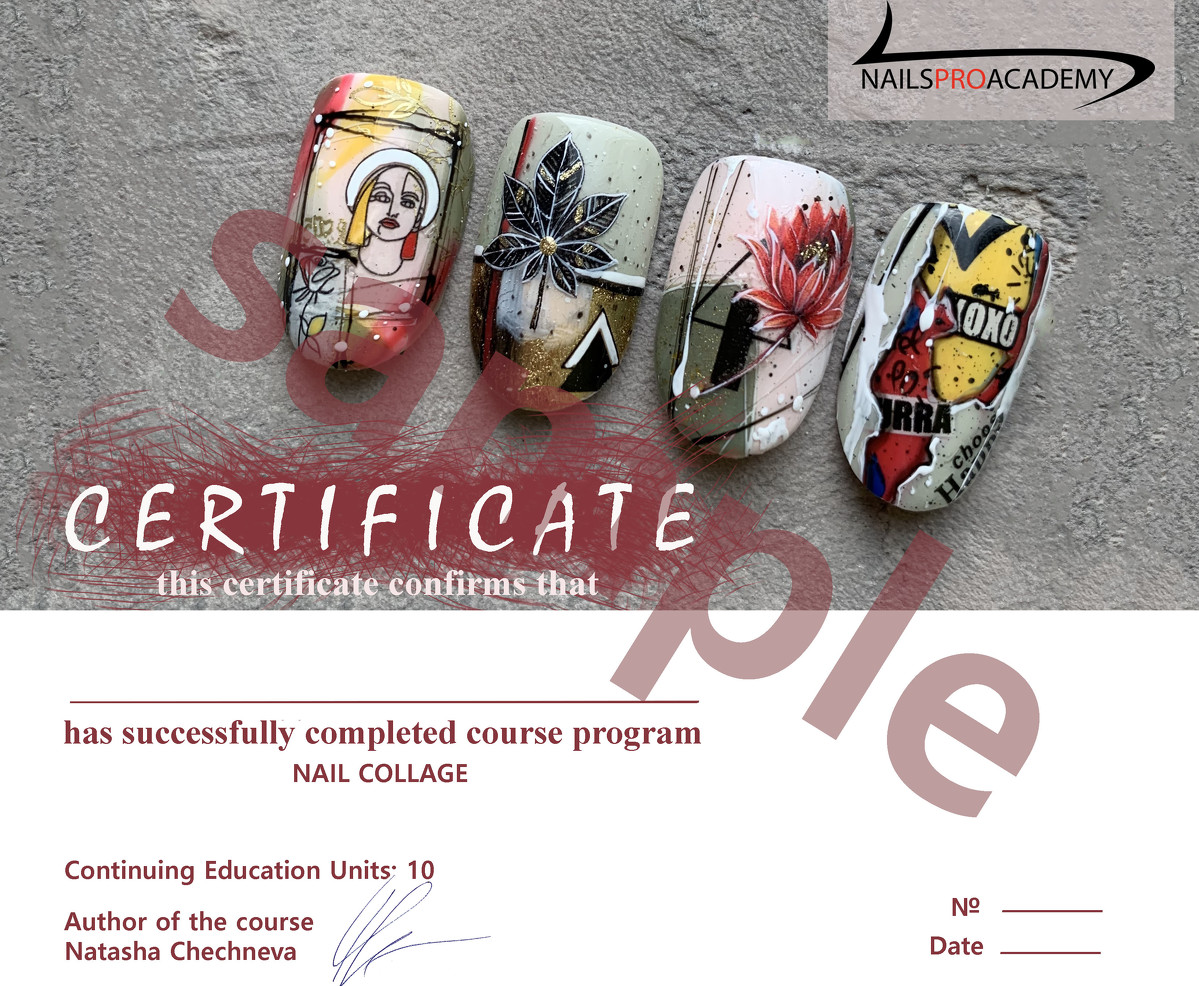 Participants of the course will be issued certificates which are quite easy to receive.
You have to complete all assignments, which will be given on the course, and the educator will evaluate and approve them.
If you have any problems with doing tasks, Natasha Chechneva will gladly help you.
If you do everything without comments and all tasks are accepted, you will be issued a certificate automatically.