Design CLUB
Online nail art course
Continuing Education Units: 10
Design CLUB
Today there are a huge number of nail design techniques: hand painting, ombre, rhinestones, precious stones, and even jewelry, watercolor, foil, fine lines. We know how many nail technicians would like to master them all.
We have collected all the latest nail design trends and techniques in the Nail art bundle. There are courses and masterclasses from 7 international nail art educators. Each of them will reveal the subtleties of creating a design.

Learn, create
and get feedback
Learn the basics of nail art and discover modern astonishing techniques. Your tutor is always in touch with you and will give you feedback with areas you can improve to create spectacular nail designs.
Products you will need:
Linear brush #0 or #1 synthetic
Natural brush #2
Ombre brush
8-10 tips for practicing designs (buff the surface with 280 buffer before the webinar)
Cleanser or alcohol
Gel Base coat (soak off)
Gel Top coat
Gel paint: black, white
Gel polish: 6-8 colors of your choice
Stained glass gel
4D gel
Thick glitter gel polish
Glitters of different sizes
Rhinestones
Water decals
Stickers
Nail foil
Caviar beads
Stamping system (silicone pad, ornament palettes)
Scissors
Pusher (curved or regular)
Dotting pen
Sponge
Pen
How our online education works?
You study remotely. The lessons are available whenever it is convenient for you.
You immediately gain access to several lessons and can view them any number of times any time you wish.
Some lessons contain practical assignments that you need to fulfill.
Next lessons will only become available after the previos lesson's assignments are completed.
You chose your own time to complete the tasks.
Make photos of your results and upload them to your account.
I evaluate the results, make comments and point out mistakes (if any), accept the assignment or ask you to try again.
You are constantly in touch with me. I always answer all the questions from all the students.
Take your time completing the tasks, do not hurry.
Spend as much time as you need on the assignments. We will prolong your access to the course for 1 or 2 weeks if required.
At the end of the course, when all your tasks are completed, you will be given access to the Test Lesson – the final evaluation of the knowledge gained during the course. After the Test is passed successfully you will get the numbered Certificate, written in your name.
All during the course the tasks submitted by each student are seen to the rest of the group. You can follow the teacher pointing out and correcting mistakes of your fellow students. This prevents you from making the same mistakes and gives a great opportunity to improve YOUR OWN work.
Your tutor is always in touch with you and will give you feedback with areas you can improve to create spectacular nail designs.
Natasha Chechneva
Until 2012 I worked as a dentist but then I started do nails and fell in love with it.
I`ve won multiple competitions in nail design and now I teach people to create eye-catching nail.
Hello there! I`m Tatiana Miroshkina.
I work as a nail tech for 10 years.
Painting is my hobby, my stress reliever and the way to express myself.
So you won`t be surprised if I say I love nail paintings.
Hello!
My name`s Anna Krasikova. I`m a nail tech and I`m in love with nail designs, especially painting techniques.
Tatiana Lobacheva
I`m a big fan of art. I`ve been painting and learning different techniques as long as I remember myself.
After school I studied at Art college and then worked as a teacher for 12 years.
Of course, my passion is nail design.
I love to create unique pictures on my clients' nails.
My name's Ekaterina Kondratskaya.
I`m a nail technician and also a teacher.
My favorite type of designs are 3D ones.
I know how to create spectacular and unusual nails in short time using only gel polishes.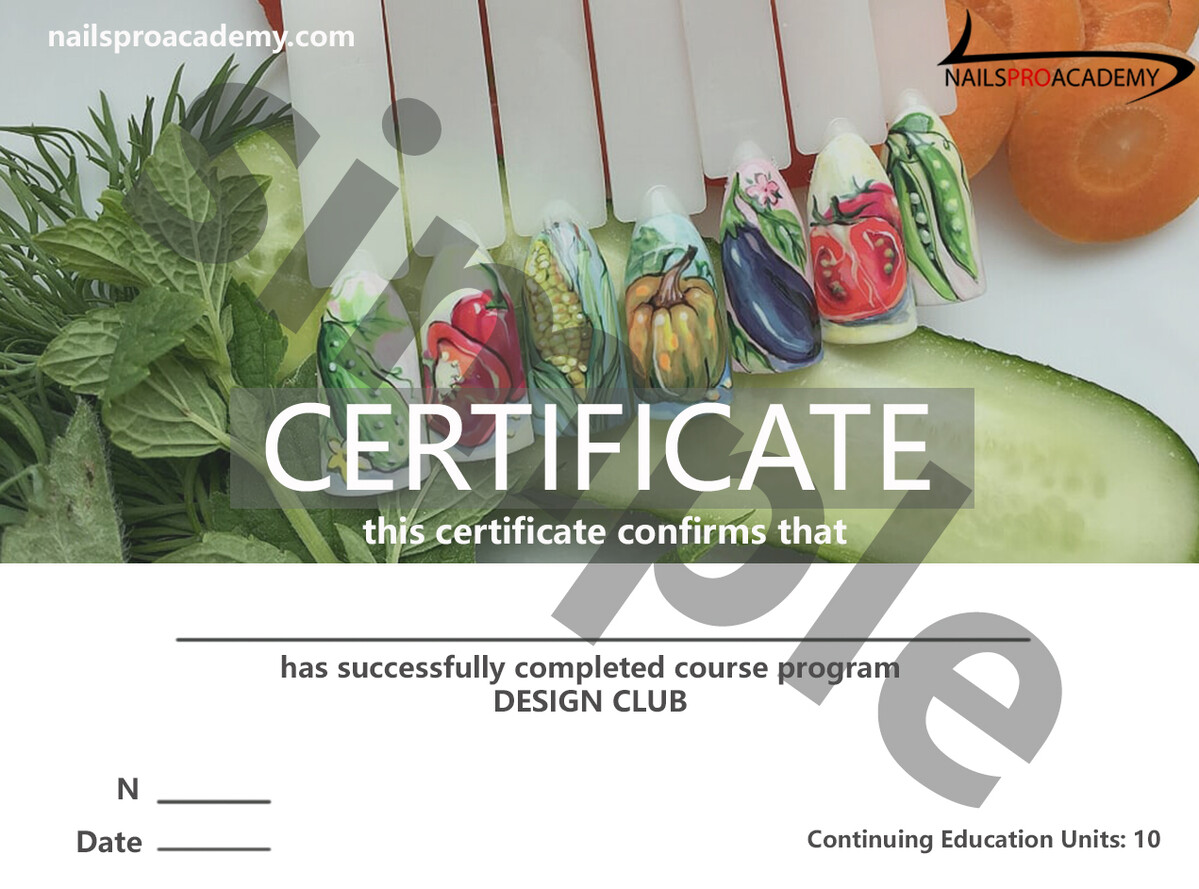 All students successfully completing the course receive the Certificate of Completion.