🔴 FREE Online Webinar Hard Gel vs Polygel
Hard Gel for Beginners
by Anastasia Milton
More than 100 video lessons for beginners and experienced nail technicians
who want to get professional education
Let's start your future in nails!
Hard gel sculpting is rapidly becoming more and more popular with salon clients. But it's a difficult skill to master. Would you like to learn how to sculpt perfect hard gel nails?

I invite you to my Hard Gel for Beginners online course.

With the knowledge acquired from this course, you will be able to sculpt gel with ease and create beautiful nails and enhance the overall satisfaction of their clients.
In this online course I have put together all the main issues related to gel sculpting.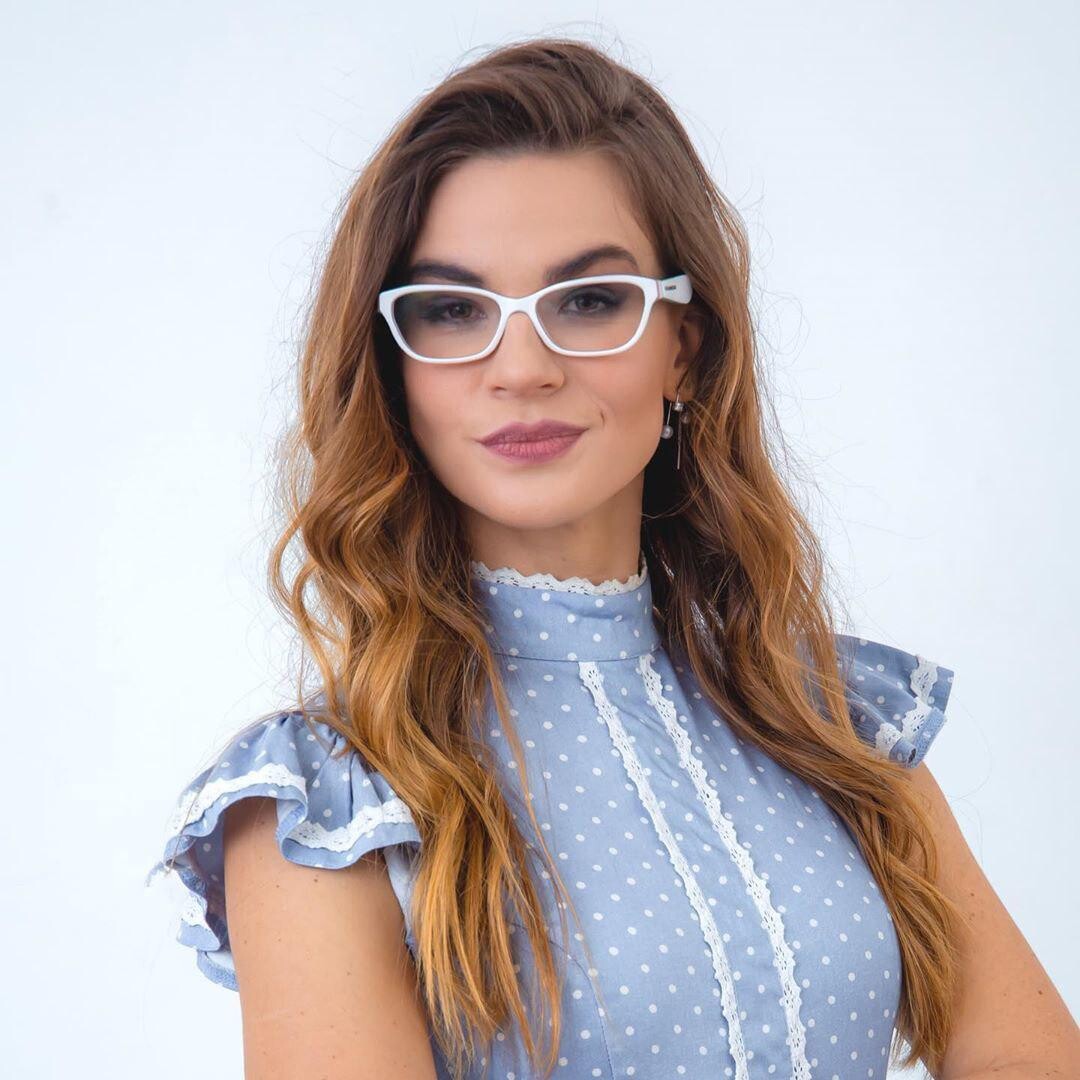 We start with basics. We discuss the structure of a natural nail, the way it grows, what materials are required, and how to choose them.

We move on to practical tasks. We learn to feel the product and to apply it properly, to choose the right moment for pinching, to shape the nail into a perfect shape by filing.
Improving the techniques. We practice achieving beautiful smile lines and applying polish, creating perfect nails for further application of one tone polish or for French manicure.
We go up from simple to comprehensive, moving on to next assignments only after the previous ones are fully completed.
Product chemistry (polymerization process)
Physiology and anatomy of the natural nail
Artificial nail architecture
What an ideal long-lasting nail should look like
Natural nail prep, applying gel polish, removing the product
Practice with a product on a tip
Pushing back the cuticle, filing the free edge, troubleshooting, applying dehydrator and primer
Placing the form stiffener
Working with a C-curve tool and forms
Sculpting: creating a nail, sculpting free edge of the nail, apex, cuticle area
How to take off gel nails safely using a nail drill
Who would benefit from this course?

The course has been developed for those who are new to sculpting, or learned it by themselves, as well as for nail specialists preferring to start their education "from scratch", and for manicure professionals aiming to expand the range of services offered to the clients.

Three Reasons to Start Hard Gel Sculpting course
Achieve a feeling of success! At the end of the course, when all your tasks are completed, you will be given access to the Test Lesson. After the Test is passed successfully you will get the numbered Certificate with your name.
Guidance at every stage.
You are constantly in touch with educators and support team. We always answer all the questions from all the students.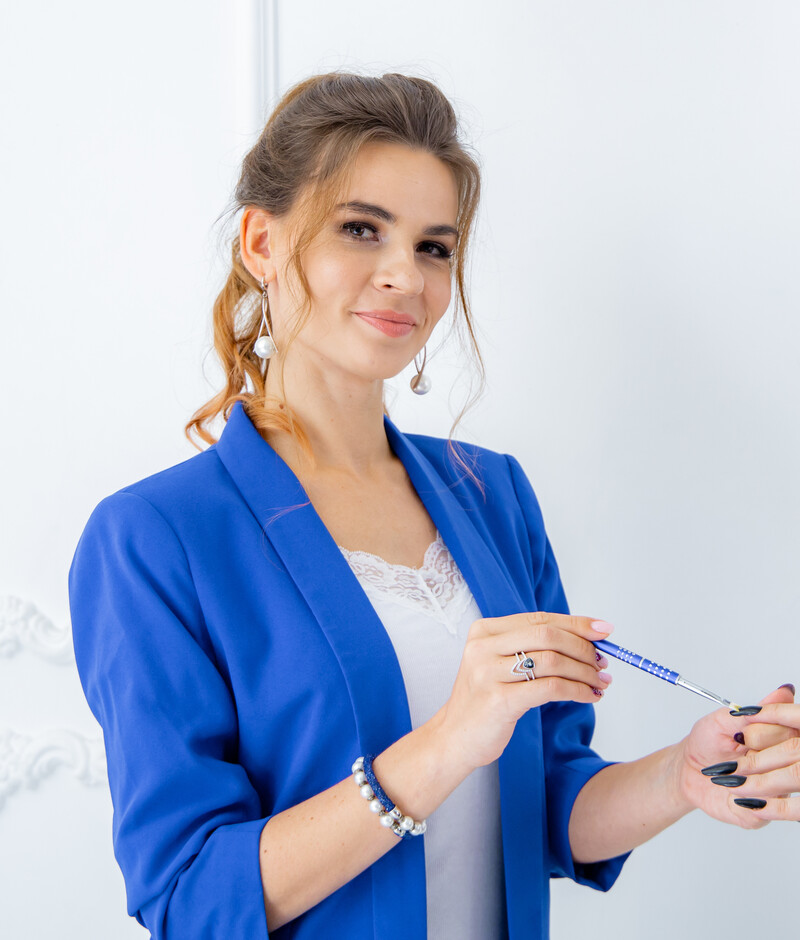 What will you get in the end? You will:

Have detailed knowledge of natural nail architecture and learn how to prepare the nail safely for sculpting;
Know all about the contents and chemical properties of various products;
Obtain information on the products currently available on the market and recommendations on the best choices to make;
Practice working with gels of different viscosity;
Learn the safety precautions necessary to protect both your clients and yourself;
Master the application techniques;
Learn how to choose the right form and how to fit it;
Learn how to choose the right nail length for each client;
Acquire the sculpting and pinching techniques that make your sculpted nails look natural;
Be able to quickly make 10 nails perfectly shaped by filing;
Learn to apply polish even and fast;
Easily correct your mistakes even if you make them;
Learn to create a perfect C-curve.
This is online training; you don't need to spend your money on travel expenses, leave your job or family.
Training contains high quality lessons in HD.
At the beginning of the training you will get access to several lessons and you would be able to watch them as many times as you wish. Some people prefer to study in the evening or even at night :)
Practice lessons will contain home assignments. You will have to complete those assignments. Anastasia Luksha will check your homework, send comments, and approve or disapprove your works. Once your design is approved you will get access to the next lessons.
You can practice at any time that is suitable for you, take a picture of your results, and upload them to the Getcourse educational system which we use to provide these online trainings.
Your tutor will check your uploaded pictures, comment on them, underline your mistakes and errors and explain how you can fix them or approve your work if there are no mistakes.
If you have any questions or concerns you can ask Anastasia anytime and get a response.
If you won't be able to complete the training before the end date we will allow you an extension of 1–2 weeks. Life is unpredictable sometimes and we would love to help you.
At the end of the training when you will complete all of your assignments you will get access to your final evaluation. When you successfully complete your evaluation Anastasia will give you a personal certificate of completion.
Here are some important things to know about our trainings:
You will always be able to see the work of your fellow students and also be able to analyze their mistakes and view the tutor's comments. It helps a lot while you are studying.
There is no limit on remaking your design. This is not possible with traditional live trainings as the whole group would have to wait for you if you're having trouble with something. With our trainings this limitation does not exist. In fact some of our students continue to remake some of their art works even after it's already been approved by the tutor — they just want to add more amazing designs to their portfolio :)
Here is an example of how this online interaction of a student and their tutor looks: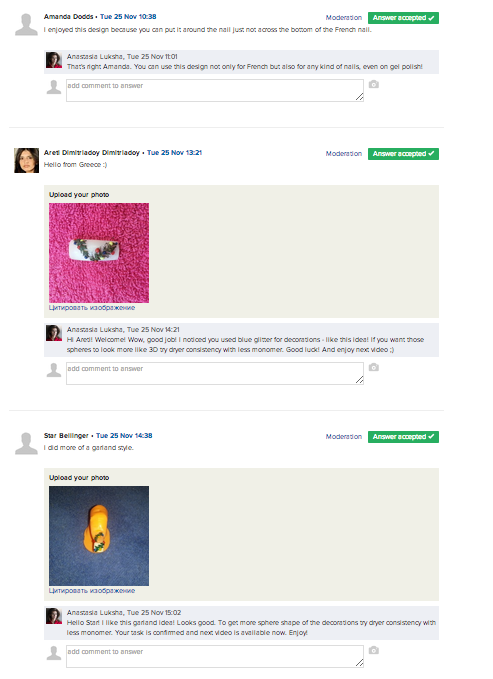 Practical results — level 1
Sculpting gels
Clear
Pink
Cover Pink
White
Soft White
Base gel
Top gel
No cleanse top gel
gels 2-3 colors (any)
Non-Acid gel Primer
Cleanse
Sanitizer
Dehydrator
Gel Brush
Forms
Clear or natural tips
100, 150 and 180 files
180/240 Grit Buffer
Block Buffer
Cuticle oil Nail Wipes

Lamp LED-UV