An Online Course by Kisa Watson
Theory and practice for beginners
Continuing Education Units: 20
Due to the nature of this technology, practice hands or dummy hands cannot be used in this course. Only Real Hands allowed.
Soft Gel Extensions is a New nail technology that has gained

a lot of popularity due to its simplicity, ease of use, the variety
of shapes, and long-lasting wear.
Learn this new technology.
Take your nail career to the next level.
Discover the different popular soft gel extension brands out in the market.
Learn how to prep your nail for soft gel extensions and apply soft gel extensions on yourself.
Learn how to remove soft gel extensions
Learn how to prep nail plate, and size your soft gel extensions.
Learn how to apply soft gel extensions with ease.
Troubleshoot and Identify common mistakes
Manufacturers of Soft Gel extensions;
Placement and lining up the extension properly;
Use of tools.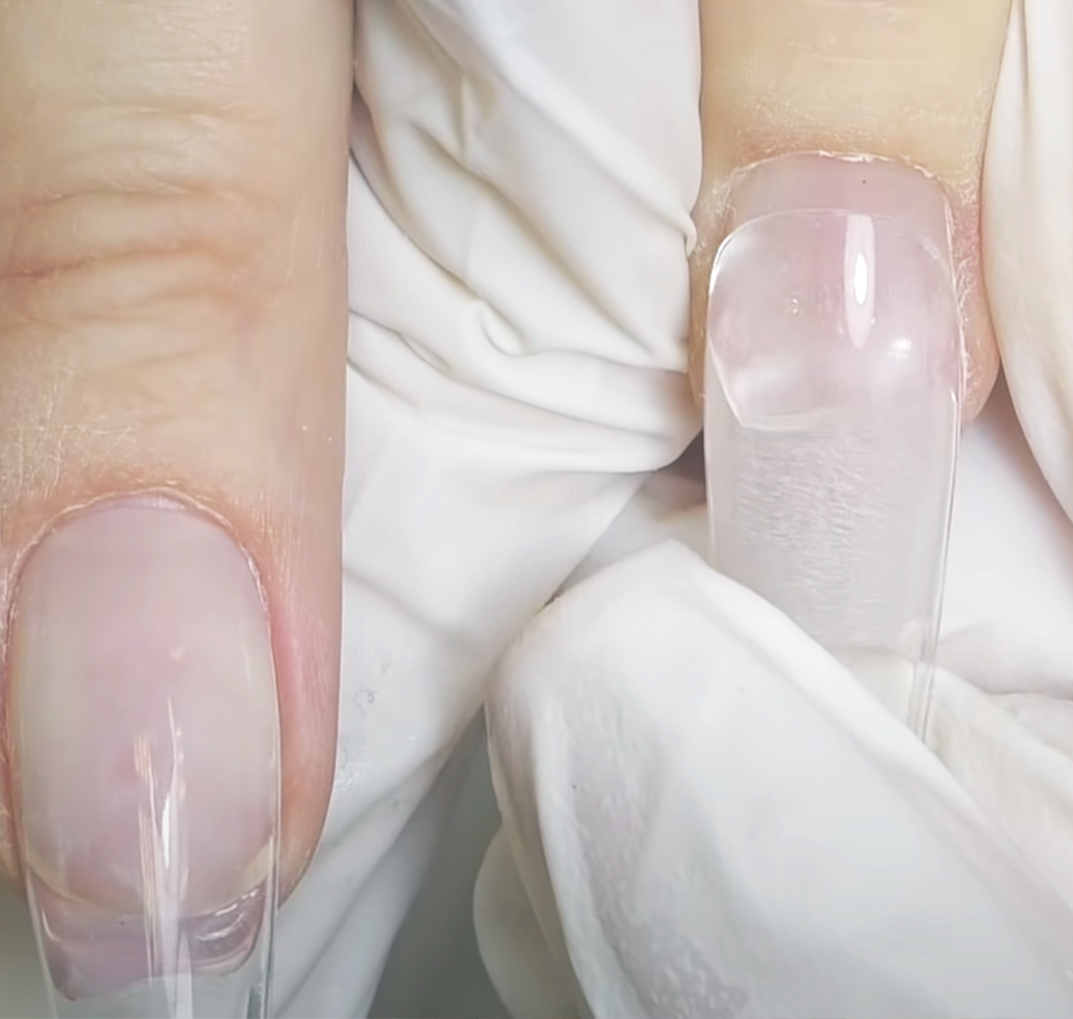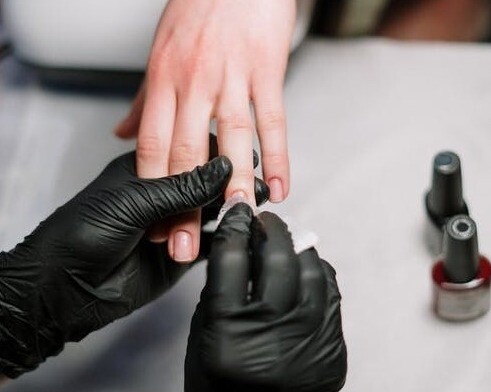 Nail plate prep for the soft gel extension;
Sizing the soft gel extensions to each nail;
Using both pot gel and brush of gel;
Placing the correct amount on the soft gel tip;
UV/LED lamp and flash Cure times;
Filing the nail;
Soft gel removal process.
Flooding the cuticle or sidewalls with soft gel product;
Leaving a gap near the cuticle or sidewall;
Not enough product to cover the nail plate;
Leaving air pockets inside the soft gel extension.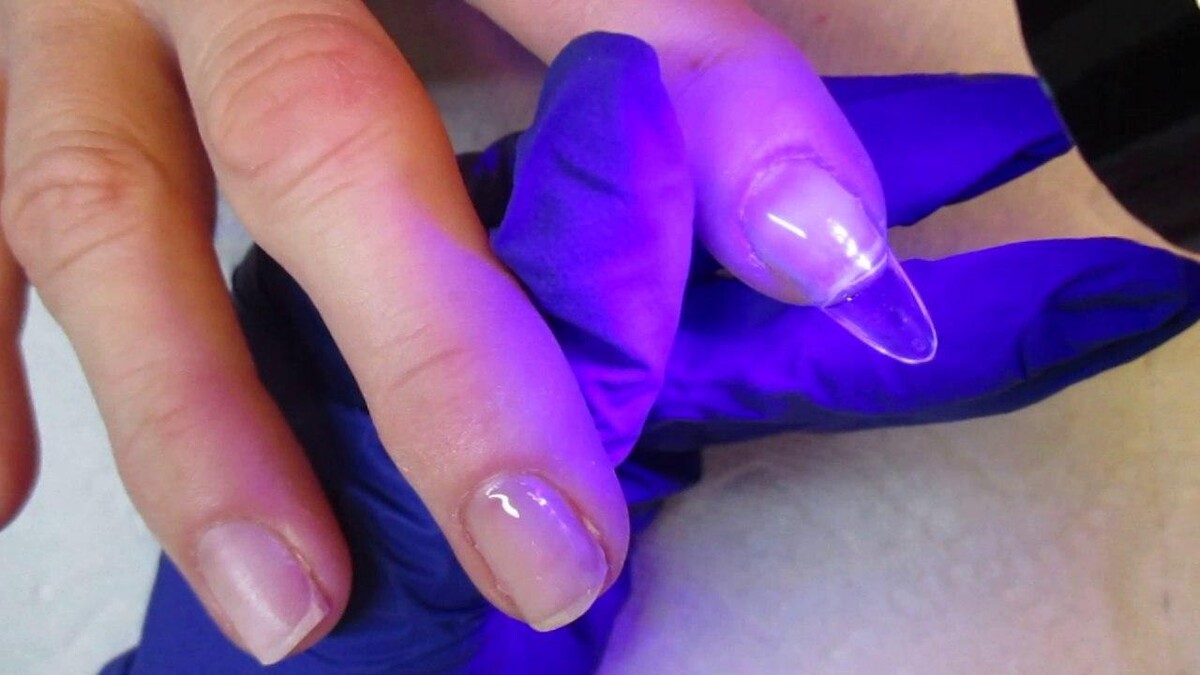 How to prepare and fit tips
You will need to purchase a professional Name brand Soft Gel Extension kit for this course:

*We recommend the following brands*
Kiara Sky Jelly Nails
Apres Gel-X Soft Gel Extensions
Enailcouture 1,2,3 Go Soft Gel Extensions
or Xtens soft gel extension kit
You will need the following supplies:
— Soft Gel extension tips all sizes for varies nail plates (that comes with the kits — see recommended manufacture list above)
— Prep / Bond solution (that comes with the kits — see recommended manufacture list above)
— Primer solution (that comes with the kits — see recommended manufacture list above)
— Extend soft gel *brush on or pot gel* (that comes with the kits — see recommended manufacture list above)
— LED Flashlight or handheld LED/UV light (that comes with the kits — see recommended manufacture list above)
— 240 grit buffer
— 100/180 grit buffer
— 100/180 grit nail file
— tip cutters or nail clippers (optional)
— UV/ LED gel lamp (at least 35 watts)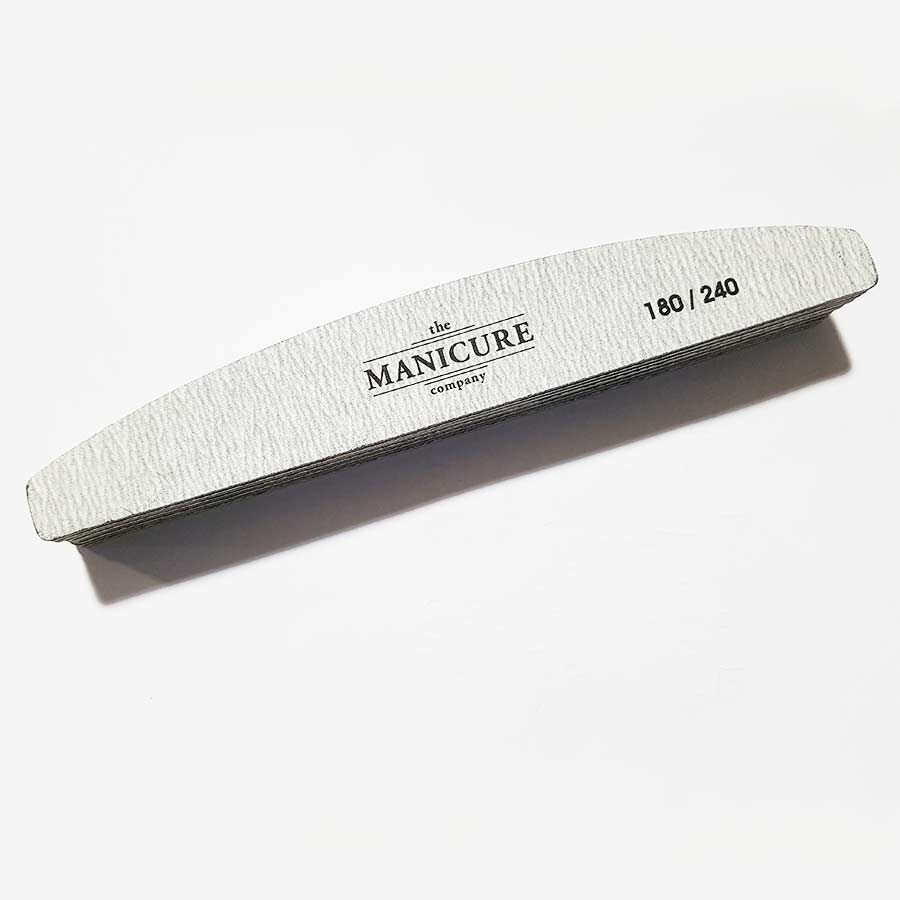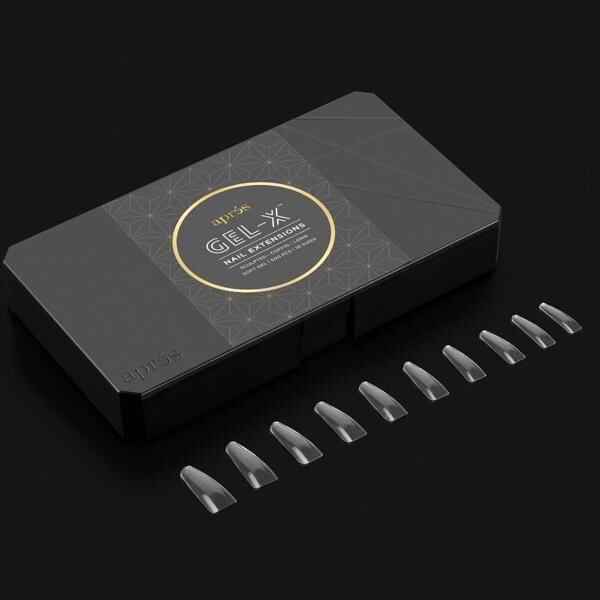 For natural nail prep work:
— 240 grit natural nail file
— cuticle pusher
— cuticle nippers or Orangewood stick
— isopropyl alcohol
— lint-free wipes
For product removal:
— Salon grade Acetone
— cotton ball
— glass or ceramic bowl (to soak off soft gel) (* gel polish remover clips or wraps are ok*)
For Bonus Nail Art:
— Silicon pad
— Regular top coat nail polish
— clear
— Stamping polish or color nail polish
— Nail art stamping plate
— silicon stamper and scraper
— tweezers
Who would benefit from this course?

Beginners new to the profession
Specialists in nail sculpting who decided to master SOFT GEL EXTENSIONS
The course contains theory and practice lessons which is needed in order to provide high-quality services.
You will learn all about to prep your nail, how to remove soft gel extensions, and give the necessary recommendations to the client.
I will explain how to choose the right tools and materials for the job.
In the practical part of the course, we will learn how to apply for soft gel extensions with ease.
Apres Gel-X Nails Removal
How our online education works?
You study remotely. The lessons are available whenever it is convenient for you.
You immediately gain access to several lessons and can view them any number of times any time you wish.
Some lessons contain practical assignments that you need to fulfill.
Next lessons will only become available after the previos lesson's assignments are completed.
You chose your own time to complete the tasks.
Make photos of your results and upload them to your account.
I evaluate the results, make comments and point out mistakes (if any), accept the assignment or ask you to try again.
You are constantly in touch with me. I always answer all the questions from all the students.
Take your time completing the tasks, do not hurry.
Spend as much time as you need on the assignments. We will prolong your access to the course for 1 or 2 weeks if required.
At the end of the course, when all your tasks are completed, you will be given access to the Test Lesson – the final evaluation of the knowledge gained during the course. After the Test is passed successfully you will get the numbered Certificate, written in your name.
All during the course the tasks submitted by each student are seen to the rest of the group. You can follow the teacher pointing out and correcting mistakes of your fellow students. This prevents you from making the same mistakes and gives a great opportunity to improve YOUR OWN work.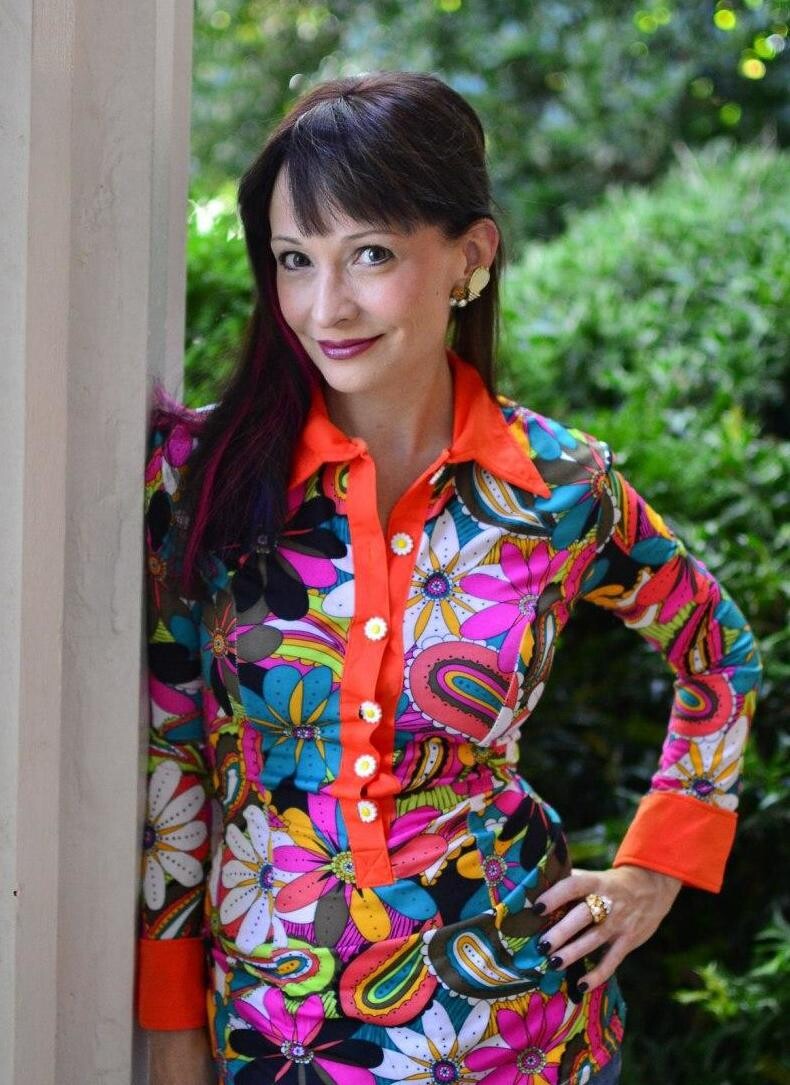 Kisa Watson is an accomplished natural nail manicurist with extensive education in advanced care. She is talented in gel manicuring and employs the latest in nail enhancement technology. She is certified in safe salon concepts, advanced nail care, IBX natural nail care, and has been an instructor with Nails Pro Academy since 2018. She has also taught at various cosmetology schools in the USA.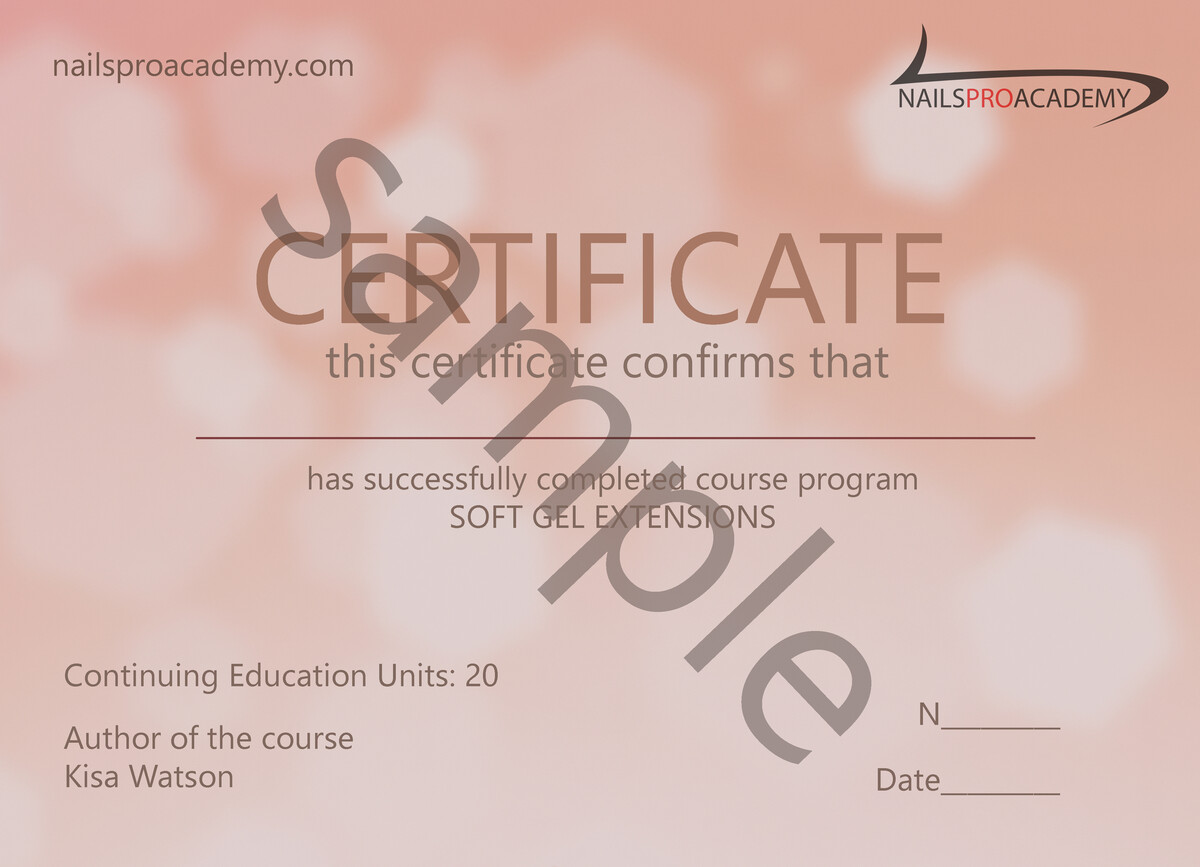 All students successfully completing the course receive the Certificate of Completion.
Got questions? Feel free to comment below